Publications Frits Koster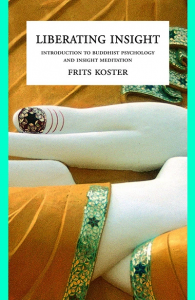 LIBERATING INSIGHT – Introduction to Buddhist Psychology and Insight Meditation. 
Published by Silkworm Books in 2004
This book introduces the reader to the psychology of Theravada Buddhism, the cradle of all later Buddhist schools and traditions. In simple and clear language Frits Koster describes the fundamental teachings of Buddhism, including the Four Noble Truths, karma and rebirth. He also introduces various forms of meditation, in particular vipassana or insight meditation. After a practical explanation of the method and practice of insight meditation, he elaborates on the fruits of this practice, namely wisdom and purification of the mind. In the final section of the book, Koster applies the principles and benefits of insight meditation to Western society in the areas of health, therapy, relationships, communication and stress. The book offers a rich and authentic introduction to Buddhist psychology and insight meditation.